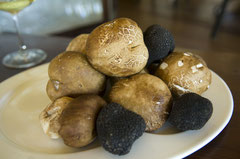 Numerous characteristic villages are scattered over the Monferrato hills. Asti is a town of great historic interest which vants a nationally famous bareback horse race - il Palio - in September. The race is framed by a parade of Medieval characters and colourful flag throwers - not to be missed!
Asti is also the home of many fine red and white wines and excellent Piemontese specialities - the treasured "truffle" is found here, but only by the luckiest! For the others, well, truffles appear on many menus and many local towns and villages have Truffle Fairs during the months of October and November. 
Turin and Genoa are well worth a visit for the more metropolitan holidaymakers - Turin's Egyptian museum is second only to the one in Cairo whilst the Acquarium in Genoa is one of Europe's largest.